About Live Downtown Grand Rapids
At Live Downtown Grand Rapids we are passionate about helping you find the perfect place to live. With several distinctive residential communities to choose from, we will find a home that is just right for you. Whether you prefer sleek, modern interior designs or historic architecture and cathedral ceilings, all of our communities offer breath taking views of the city and access to Grand Rapids top attractions, including unlimited dining, shopping and entertainment options.
Enjoy browsing Grand Rapids residential communities by location with our unique interactive map. See what attractions are near by and easily select the best downtown home for you. If you have any questions call us directly at 616-431-4417 or fill out our contact form and a Live Downtown Grand Rapids leasing consultant will respond within minutes!
Our Company
Since our founding 2009, Brookstone Realty Management has represented successful and award-winning properties in Grand Rapids and other prominent Michigan Cities. We are committed to offering and maintaining high-quality affordable housing that is well-designed, well-constructed and well-managed. We are a minority- and woman-owned company.
To see a full list of our Downtown Grand Rapids properties, click here. To see what residents say about us, click here.
Our mission
Our mission is to provide affordable housing that is well-designed, high-quality construction, economically sustainable, well managed and indistinguishable from high-end market-rate housing developed around communities.
Our team
We have a highly skilled, engaged and diverse multifamily workforce in Grand Rapids who are committed to providing exceptional customer service to our residents. Our workforce reflects the Grand Rapids community we serve. As a team, we embrace and practice honesty, fairness and respect for others.
Our founder
When Mai complet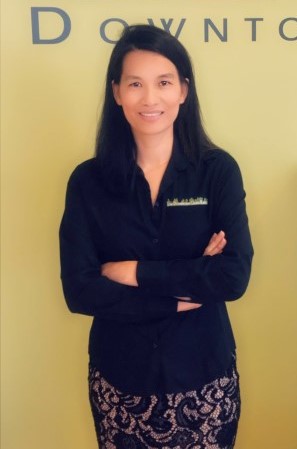 ed her MBA at Central Michigan University, she had two job offers: one in an industry she had worked in and one in affordable housing. On the advice of a professor, she chose the latter – and that set her on the path to a rewarding career assisting individuals and families find high-quality affordable housing.
As the founder and Manager of Brookstone Realty Management, Mai brings a strong background in marketing to her role. Mai believes "great housing start with great design," which is why all Live Downtown Grand Rapids properties are built and maintained to the highest multifamily industry standards of quality. The portfolio offers a mix of renovated and re-envisioned adaptive reuse buildings with new construction aimed to complement the neighborhoods in which they are built.
Preserving downtown Grand Rapids' historical buildings is important to Mai and her team. From their 140-year-old leasing office at 101 S. Division Ave., the team manages 10 apartment buildings, fully half of them in historic buildings.
Mai credits her property management team with the success of Brookstone Realty Management, noting that their hard work, dedication and passion for serving residents underscores every aspect of the business. "Our work is only possible because of the great team we have," Mai notes. "Bringing in people from different backgrounds gives us tremendous diversity of ideas and allows us to fulfill our mission of providing affordable housing that is indistinguishable from high-end market-rate housing developed around communities."